ALASKA/CANADA
Wild Women Expeditions (Girls Programs)
Jennifer Haddow, Director
P.O. Box 264
Woody Point, NL A0K 1P0 Canada
Ph. 1-888-993-1222
info@wildwomenexpeditions.com
Note: Women and Girls Canoe Trip - Temagami, Northern Ontario. Take your daughter, niece or a special young girl in your life on a special bonding experience – a wilderness canoe trip with fun girl-friendly guides, other women with girls and all the details taken care of to enjoy the wonders of this amazing Canadian experience. Designed for budding wild girls age 8-14, with awesome mums, fab aunts, cool grannies, etc!

NORTHEAST

Coastal Studies for Girls
A program of the National Ocean Sciences Bowl
1201 New York Ave NW, 4th Fl
Washington, D.C. 20005
Kristen Yarincik, Director
kyarincik@oceanleadership.org
Note: Coastal Studies for Girls is the first and only science and leadership semester school, 10th grade girls with a passion for discovery, an adventurous spirit, and a desire for challenge are actively exploring coastal marine ecosystems, engaging in rigorous college preparatory courses, and realizing their leadership potential in a supportive living and learning environment.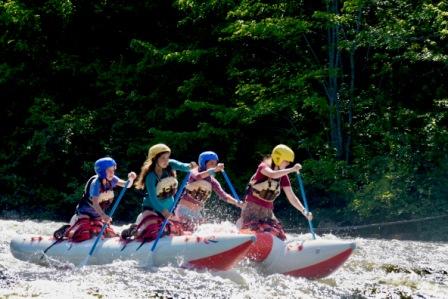 Kroka Expeditions, Wild Girls paddling the Rapid River in Maine & New Hampshire (Photo courtesy of Kroka archives)

Kroka Expeditions
Ezra Fradkin, Summer Program Director
767 Forest Road
Marlow, NH 03456
Ph. 603-835-9087
summer@kroka.org
Note: Two programs for girls: Wilderness Adventures for Girls (ages 11-13) & Wild Girls! (ages 13-15). Committed to awakening in young people a connection to nature and the spirit within, and a capacity for conscious living and compassionate service. They strive to achieve this through wilderness adventure, community living, farming, and the practice of traditional and indigenous skills.


Kroka Expeditions (Photo: Lynn Horowitz)
SOUTH/SOUTHEAST

Girls on Outdoor Adventure for Leadership and Science (GALS)
Jacqueline Gerson, Director
2403 Prince Street
Durham, NC 27707
Ph. 732-710-1844
gals.science@gmail.com
Note: GALS is a 2-week program for high school girls from underrepresented backgrounds. Girls backpack through Pisgah National Forest while learning hands-on, place-based science. GALS strives to cultivate a passion for environmental science, develop leadership abilities, enhance critical thinking skills, and promote teamwork.
NORTHWEST

Inspiring Girls Expeditions
Erin Pettit, Glaciologist, Founder of Girls On Ice and Inspiring Girls Expeditions
University of Alaska, Fairbanks
College of Natural Sciences & Mathematics
PO Box 755940
Fairbanks, AK 99775
erin@girlsonice.org
info@girlsonice.org
Note: Expedition teams of 9 teenage girls and 3 instructors spend 12 days exploring and learning in wilderness environments. Scientific field studies with professional glaciologists, geologists, ecologists, oceanographers, marine biologists, artists, and wilderness guides. Girls build critical thinking skills, gain self-confidence, and see the world with new eyes, while building lasting friendships. Expeditions include Girls on Ice (in Washington, Alaska, Switzerland, and soon Canada), Girls in Icy Fjords (Alaska, new in 2017), Girls on Water (Alaska, coming soon), and Girls on Rock (Colorado, coming soon). All programs are tuition free!

YMCA Girls Outdoor Leadership Development (GOLD)
Courtney Aber, National Bold & Gold Director
909 4th Avenue
Seattle, WA 98104
Ph. 206-382-5343
Fax. 206-382-7894
boldgoldprograms@seattleymca.org
Note: GOLD programs inspire courage & leadership in girls from all backgrounds in beautiful locations around the country. Spring break & summer adventures: climbing, backpacking, rafting, canoeing, biking. Partnership programs: Custom designed for schools and other organizations; workshops & trainings; collaborations with other organizations with similar missions. Girls only programs operate in over 25 cities nationally. (Click here to find list of locations).

GOLD Beyond City Limits, Mt. Erie
(Photo: Punneh Abdolhosseini)
YWCA GirlsFirst
Indira Bahner, Director of GirlsFirst
Leadership Development
1118 Fifth Ave.
Seattle, WA 981012
Ph. 206-709-7214 or 206-709-7216
girlsfirst@ywcaworks.org
ibahner@ywcaworks.org
Note: Year-long leadership and experiential program specifically designed for teen girls of color who face economic and social barriers to success. Girls begin the program the summer before their freshman year of high school and continue until the following summer. Participants also receive alumni programming and support throughout high school. Programming includes leadership development, mentoring, academic support, job readiness training, community service projects, paid summer internships and Outward Bound opportunities.

Women in the Outdoors (for girls ages 14 & up)
An Outreach Program of the
National Wild Turkey Federation
Teresa Carroll, Program Coordinator
Ph. 800-843-6983 OR 816-387-6606
tcarroll@nwtf.net
Note: The Women in the Outdoors program provides educational outdoor opportunities for women (14 and older) all over the country while fulfilling the NWTF mission of preserving the hunt, educating future generations of conservationists and sharing our love of the outdoors with new audiences.

Rite of Passage Journeys
Mountain Quest: Coming of Age for Young Women
Chris Laliberte, Program Director
P.O. Box 27559
Seattle, WA 98165
Ph. 425-485-7396
info@riteofpassagejourneys.org
Note: The program explores the mountains and coast of the Olympic Peninsula, as well as exploring community and our own strengths and gifts! Laughter, sweat, creativity, reflection, and new friendships all come together as girls support each other through an experience of personal transformation.

Mountain Quest, Coming of Age for Young Women
Multi-day backpacking trip:
Olympic National Park, culminates in 24-hr solo vigil
(Photo: Courtesy of Rite of Passage Journeys)




List Your Organization Here!!
Request to be added: Nina S. Roberts


ROCKIES
The Traveling School
Jennifer Royall, Head of School
P.O. Box 7058
Bozeman, MT 59771
Ph. 406-586-3096
info@travelingschool.com
Note: A 15-week program for girls ages 15-18 to participate in an overseas experience for an academic semester. Curriculum includes academics, overseas exploration, community development and service projects, and outdoor activities. Students earn credit for 7 semester courses.

Southern Africa Semester, Zambia
(Photo courtesy of The Traveling School)
Girls' Program of Women's Wilderness
2845 Wilderness Place, Suite 211
Boulder, CO 80301
Ph. 303-938-9191
info@womenswilderness.org
Note: Programs are for girls ages 8-18, ranging from day camps to week-long trips. Financial aid is available for all girls' courses & they have never turned away a girl needing financial support. Activities include rock climbing, camping, backpacking, canoeing, art projects, team-building and leadership initiatives. Their recipe of strong female instructors as role models, wild places away from phones, media, cliques, and school pressure, and a girl-positive approach helps girls feel strong and great about who they are! All courses occur in an atmosphere that cultivates respect, inclusivity, and collaboration.

Feet on the Earth
Lorene Wapotich, Founder & Director
PO Box 18302
Boulder, CO 80308
Ph. 303-642-0562
info@feetontheearth.org
Note: Feet On The Earth's camps & school-year programs guide girls, ages 7-17, to engage the power of their bodies, minds, hearts and spirits to pursue their passion and purpose in life. Through long-term, nature-connection mentoring and community-based, wilderness rites of passage, girls are supported to align with their true self, identify their sacred gifts, and develop simple yet powerful tools to transform their lives. A multi-generational team of dedicated female mentors and role models holds each group of 6-12 girls. Financial aid is available. Programs and training for women are also available.


Girls Wilderness Rites of Passage in the Colorado Rockies (Photo courtesy of Feet on the Earth)
WEST/PACIFIC WEST

Alpengirl Adventure Camp ~ "Girls with Altitude"
Alissa Farley, Director
PO Box 1138
Manhattan, MT 59741
Ph. 406-570-6312
info@AlpengirlCamp.com
Note: Alpengirl offers 1 or 2 week overnight multi-sport outdoor adventure camps to teen and pre-teen girls ages 11-16 in Montana, Idaho, Wyoming and Washington. Backpacking, yoga, horseback riding, surfing, rock climbing, rafting. Alpengirl offers a balanced mix of outdoor adventure, organic fitness and genuine friendship allowing each camper to blossom.

Alpengirl W ashington Girls Camp

Alpengirl Adventure Camp for Girls
Brown Girl Surf
2323 Broadway
Oakland, CA 94612
info@browngirlsurf.com
Inquire via online contact form
Brown Girl Surf is a movement that shifts societal narratives around girls and women of color in the outdoors. Our mission is to build a more diverse, environmentally reverent, and joyful women's surf culture by increasing access to surfing, cultivating community, amplifying the voices of women of color surfers, and taking care of the earth.
Gaia Girls Passages
Sarai Shapiro, Founder and Director
San Francisco Bay Area
Ph. 510-731-0308
support@gaiagirlspassages.org
Note: Gaia Girls Passages provides circles of support, inspiration and encouragement through nature and soul-based after school groups, summer camps, and Rite of Passage ceremonies for youth (girls and gender expansive), grades K-12 and their mothers or female care-givers in the Bay Area of California.

GirlVentures
Emily Teitsworth, Executive Director
Cori Coccia, Program Director
119 Filbert Street
Oakland, CA 94607
Ph. 415-864-0780
info@girlventures.org
Note: GirlVentures inspires girls to lead through outdoor adventure, inner discovery, and collective action. GirlVentures' courses help girls lead with confidence and empathy, develop lifelong healthy habits, and find their place in nature, through mentored indoor rock climbing courses and wilderness expeditions that integrate rock climbing, kayaking, and backpacking with a curriculum focused on social-emotional learning, leadership, and environmental justice.

Outervention
Erica Cicero, Executive Director
165 Garcia
San Francisco, CA 94127
Ph. 415-681-9426
ecicero@sbcglobal.net
Note: This program offers wilderness experiences to strengthen relationships between adolescent girls and their parents

Maui Surfer Girls
Dustin Tester, Camp Founder
P.O. Box 1158
Puunene, HI 96784
Ph. 866-674-2002
dustin@mauisurfergirls.com
Note: The mission is to empower girls through the sport of surfing and Maui adventure. Whether it be learning how to catch the warm waves of Maui or hiking through the beautiful West Maui Mountains, girls gain an enriched summer experience and sense of self at camp. They offer the smallest student to teacher ratio's (3:1) in the industry, to foster bonding, mentorship, and self-awareness at their surf camp. Be a part of the growing o'hana (family)!

Girls (ages 12-17) come from around the world to explore beauty of Maui each summer (Photo: Lauren Stripe)
Womanhood Inspirations
Rite of Passage Program for Girls
Bernadine Rosso & Terry Nail-Williams, Co-Founders
Ph. 831-345-9885
womanhoodinspirations@gmail.com
Note: Programs support teen girls, ages 13-17 years old, and their mothers, in the transition from young woman to woman. Through conversation and experiential education they explore the many changes that occur in adolescence and apply conversation and experiential education to what it means to be a healthy and balanced woman. Whether there are lifetime goals and dreams to integrate or by simply seeking a lifestyle to support a fulfilling life, the tools and activities incorporated fuel the passion and inspiration already present or bring to the surface what may be buried underneath waiting to be discovered.

Beckwourth Mountain Club and
Outdoor Education Center
"Girl Bonding"~ Rocky Mountain National Park
(Photo: Nina S. Roberts)
Alliance For Girls (AFG)
Emma Mayerson, Founder/Executive Director
Ph. 510-629-9464
emma@alliance4girls.org
(Location: Offices of Girls Inc. of Alameda County)
510 16th Street, Suite 100
Oakland, CA 94612
Note: AFG champions the leaders and organizations that empower and support Bay Area girls through advocacy, research, professional development and collaboration. AFG is an association of 100+ Bay Area organizations and leaders serving 216,000 girls, and serves as convener, educator and advocate for girls and the organizational leaders that serve them. We envision a world where a girl's worth is determined by her mind and spirit, her body is safe and a source of joy, and the sky is her limit

Girls Equitable Treatment Coalition
899 Logan Street, Suite 600
Denver, CO 80203
Ph. 970-221-3676
Note: Part of the CO Division of Criminal Justice, G.E.T. advocates for girls in the juvenile justice system. They provide training and programming appropriate to female youth.

Girls, Inc.
120 Wall Street
New York, NY 10005
Ph. 212-509-2000
communications@girlsinc.org
Note: Inspires all girls to be strong, smart, and bold through direct service and advocacy. Comprehensive approach to whole girl development equips girls to navigate gender, economic, and social barriers and grow up healthy, educated, and independent. Informed by girls and their families, they also advocate for legislation and policies to increase opportunities for all girls.

Girls Leadership
Simone Marean, Co-Founder & Executive Director
111 Myrtle Street, Suite 101
Oakland, CA 94607
Ph. 866-744-9102
Fax 410-558-6673
Note: Co-founded by bestselling author and girl-expert Rachel Simmons and dynamic speaker Simone Marean. This nat'l organization inspires girls to be true to themselves. By teaching the practices of emotional intelligence, assertive self-expression and healthy relationships, Girls Leadership teaches girls the skills to be brave, resilient, and connected. Programs include: Overnight Summer Camp (grades 6-12), Day Camps (grades 4-5), & Parent/ Daughter Workshops (for grades K-8) in CA, NJ, NY, and CO. All courses use interactive, hands-on lessons and are progressive, following girls' developmental needs from grade school through H.S.


Girls Leadership Photo Archives 2014: Mount Holyoke College
South Hadley, MA

Girls Leadership Worldwide
The Eleanor Roosevelt Center at Val-Kill
P.O. Box 255
Hyde Park, NY 12538
Ph. 845-229-5302
glw@ervk.org
Note: Each summer, girls from all corners of the globe are brought together for a unique 9-day leadership program inspired by Eleanor Roosevelt's legacy as "First Lady of the World." Over the course of their week together, girls experience interactive workshops, participate in field trips to sites of historic and humanitarian interest, visit career sites in NYC hosted by accomplished female leaders, and gain global perspectives on leadership and diplomacy—all while building international networks and creating lasting bonds. Girls emerge transformed and energized, ready to be the compassionate, socially-conscious change agents of the future.

Girls on the Run International
801 East Morehead Street, Suite 201
Charlotte, NC 28202
Ph. 704-376-9817
info@girlsontherun.org
Note: A physical activity-based, positive youth development program designed to enhance girls' social, emotional and physical skills and behaviors to successfully navigate life experiences. The program's intentional curriculum places an emphasis on developing competence, confidence, connection, character, caring, and contribution in young girls through lessons that incorporate running and other physical activities. The life skills curriculum is delivered by caring and competent coaches who are trained to teach lessons as intended. Girls on the Run serves over 200,000 girls annually, grades 3-8, spanning all 50 states. Find a council near you!

Girl Scouts of the USA
420 Fifth Avenue
New York, NY 10018-2798
Ph. (800) 478-7248 or (212) 852-8000

GO! Girls Outdoors
Marjorie Morgan
Ph. +61429708134 (Australia)
marjorie@girlsoutdoors.org
Note: A resource for women in outdoor education and recreation. This oustanding resource is for women who work and/or participate in outdoor adventure activities. It features a series of profiles of inspirational outdoor women, organisations that cater to women, trips and events, a discussion forum, lists of resources and a blog. The site is regularly updated.

International Center for Research on Women
1120 20th St., NW, Suite 500 N
Washington, D.C. 20036
info@icrw.org
Note: ICRW is an international organization that works alongside partners across the globe. Our work begins and ends in communities because we know that when given the opportunities, women and girls have the power to change their world. Through our two strategic hubs in Africa and Asia, our local staff are engaged in research, programs and policy advocacy at the regional level.

Nurture Through Nature Green Retreat Center
Maine's Earth Friendsly Retreat Center for
Eco-Adventures & the Healing Arts
Denmark, ME
Jen Deraspe, Owner
Ph. 855-207-RETREAT (7387)
getaway@ntnretreats.com
Note: Eco-retreats and earth~friendly vacations for individuals, couples & groups. Design your own enriching retreat by adding specialized holistic life coaching services, private yoga instruction, guided meditation, and/or a magical private wood-fired sauna session.
Oasis For Girls, A project of The Tides Center
Jessica Van Tuyl, Executive Director
1091 Mission Street
San Francisco, CA 94103
Ph. 415-701-7991
Fax 415-701-0131
Note: Founded in 1999, the mission of Oasis For Girls is to partner with girls and young women of color from under-resourced communities in San Francisco to help them cultivate the skills, knowledge, and confidence to discover their dreams and build strong futures.


Culminating a great week together on the Green River
Moab, UT

(Photo: Courtesy of "Nurture through Nature")


Strozzi Institute
Women and Embodied Leadership
Training Site | The Dojo
4101 Middle Two Rock Rd.
Petaluma CA, 94952
Ph. 707-778-6505
courses@strozziinstitute.com
Note: Specially designed program for young women, 15-18 years of age, during summer months. This School of Embodied Leadership Training focuses on increasing girls' awareness of their somatic self (internal sensing/whole self) and connecting physical practices with the development of self and their ability to take effective action in the world to produce the results they intend.

Student Conservation Association
High School/Youth Conservation Crews
Recruitment Department
P.O. Box 550
Charlestown, NH 03603
Ph. 603-543-1700
Fax 603-543-1828
admissions@thesca.org
Note: SCA works with high school girls (ages 15-19) through co-educational crew opportunities. Students gain wilderness skills, enjoy outdoor adventures, build hiking trails, and restore habitats back to their natural states. It's time for real adventures, real challenges, and making a real difference. Crew members live and serve in national parks, forests, and other public lands for a 4-5 week summer program. Develop leadership skills and get real experience for your future!

Women's Adventure Media
Marin Headlands, CA
contact@womensadventuremedia.com
Note: Magazine digital archives. Submit your story!


Fishing trip, The Isle of Palms, South Carolina
The intercoastal waterway (Photo: Alyssa Roberts)
Women's Funding Alliance
2101 Fourth Ave., Suite 1330
Seattle, WA 98121
Ph: 206-467-6733
Fax: 206-467-7537
Note: Envisions a world where all women and girls have the opportunity to live, lead and thrive.Their mission is to advance leadership and economic opportunity for women and girls in Washington State. They accomplish this by making the case, driving solutions and mobilizing people to make change.

Women, Girls, and Education
Women's Studies Links of the Association of College and Research Libraries
Note: Links for curriculum, pedagogy, research, periodicals, funding, issues, discussion lists, and more.

Kayaking on Tomales Bay, Point Reyes National Seashore
(Photo: Nina Roberts)

Learn How To Become
Kim Williams
Director of Communications
P.O. Box 77012
San Francisco, CA 94107
Note: A comprehensive career resource with a mission to help students and aspiring professionals understand what it takes to land their perfect career. Sample resources available:
• Powerful Women Rule: Under-represented Careers Guidebook
• College Financial Aid: Women Specific Scholarships and Financial Resources
• Overcoming the Gender Bias - Closing the Gender Gap Guidebook



Nature Through Nurture Retreat Center
(Photo: Courtesy NTN)